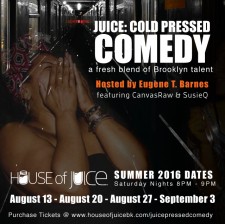 This summer we're bringing the juice to Prospect Lefferts Gardens. Juice: Cold-Pressed Comedy is a healthful four-part summer comedy series that blends nourishment with art and laughter taking place Saturday August 13, August 20, August 27, and September 3 at House of Juice in Lefferts Gardens.
Brooklyn, NY, July 20, 2016 (Newswire.com) - Healthful four-part summer comedy and visual art series Juice: Cold-Pressed Comedy is blending two modes of self-expression to unite the evolving local community and encourage healthful modes of entertainment.  Presented by House of Juice, a garden-to-cup juicery that uses local organic sources, the series will take place Saturday August 13, August 20, August 27, and September 3 from 8PM-9PM at 642 Rogers Avenue in Prospect Lefferts Gardens.  
Five comics will join host Eugene T. Barnes and take the stage for 10-minutes each to a vibrant backdrop of original works created by local visual artists Tyler Jordan of Canvas Design Shop and Susie Q. Entry for each event is  $20 and includes a refreshing smoothie, juice, fermented beverage or drink flight plus free-flowing tapas for the duration of the event.
"Laughter is an important component of a person's spiritual nutrition. We've created a menu that energizes and nourishes the body and realized we needed to do the same for the mind by coming up with a healthful mode of entertainment for members of our changing neighborhood and city could seek solace in," House of Juice co-founder Danii Oliver said.
Our lineup includes ABC The View's Most Hilarious Housewife Contest finalist Debbie Bazza; BET Apollo Live performer Alex Carabano; SiriusXM The Check Spot host Emma Willmann; and many more hilarious movers and shakers on the NY comedy club scene.  A work from each artist will be raffled off with the winner selected on site at the show's end.

Tickets are available for purchase via Eventbrite (https://www.eventbrite.com/e/juice-cold-pressed-comedy-tickets-26546413036). For more information or for the full show lineup please contact the event publicist or visit http://houseofjuicebk.com/upcomingevents/.
Source: Cocktail Chanel PR
Share: